Vernon's Only 18-Hole Executive Golf Course
The golf course and driving range are now open for the season.
There are significant changes due to COVID-19:
The restaurant is closed until further notice, limited snacks & beverages only.
Please be aware of the numerous health and safety protocols.  Social distancing rules must be followed.  If you are unable to adhere to all of our posted safety protocols you will be asked to leave the facility… no exceptions.
Please do not arrive more than 10 minutes before your tee time.
Stay 2 meters apart – 2 club length rule
You must have a tee time – no drop ins
Use tap – contactless card payment preferred
No tables/chairs – just golf then go
Limited number of tee times – be flexible
No practice greens
Limited access to proshop check with attendant before entering
No rental clubs
Upside down cups – do not touch the flag
No bunker rakes
Rental pull carts now available – sanitized each use
Power carts now available – sanitized each use
Extra precautions at the Driving Range, range balls washed and baskets sanitized after each use.  The driving range is drop in, you do not need a reservation.  Rentals are currently not available please organize clubs in advance.
Starting Hours:
FIRST TEE-TIME:
8:00 AM
LAST TIME FOR 18-HOLES:
5:00 PM
LAST TIME FOR 9-HOLES:
6:30 PM

RANGE OPENS:
8:00 AM  – EXCEPT THURSDAYS AT 9:00 AM
RANGE CLOSED (LAST BUCKET):
6:30 PM
Safety will be more important than convenience.
Our current online booking discount ends May 31, 2020.  Watch for new Daily Deals starting June 1, 2020.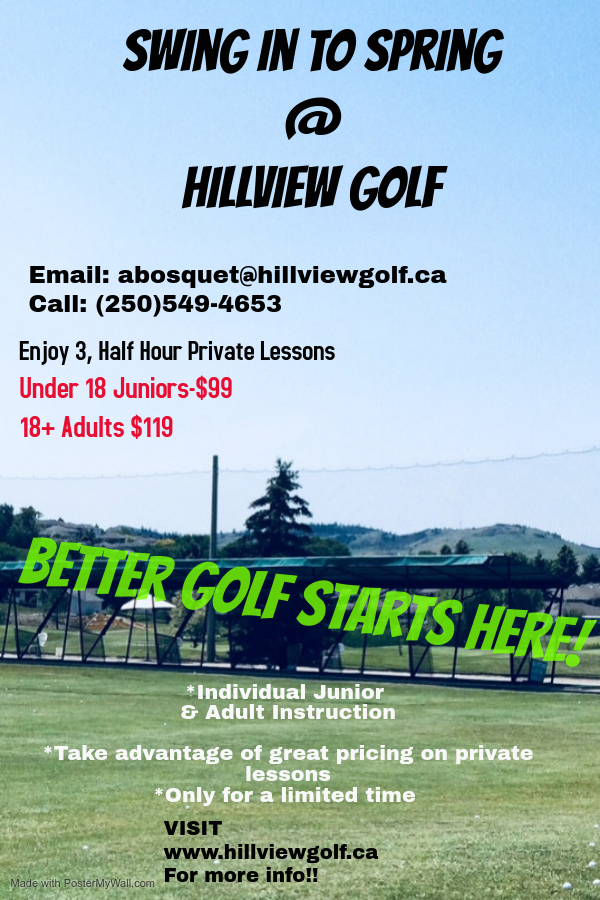 Hilliview Golf Course, established 1986